Tri-Tec's Brad Howard Becomes Compass Precision Employee of the Month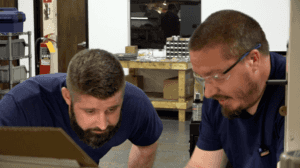 Brad Howard describes himself as someone who prefers a quiet or sometimes even boring life, but his value to Tri-Tec Industries, LLC has been anything but dull. His worth has led to Compass Precision naming Brad its Employee of the Month for July.
He joined Tri-Tec in 2006 as a machinist and quickly became the company's leading operator on CNC mills. About a decade into his tenure, Brad became production manager, a role in which he supervised the entire shop. Then after three and a half years as production manager, Brad returned to machining on a full-time basis as Tri-Tec's lead machinist.
"I enjoy working with my hands. I enjoy the thinking process of trying to come up with how to do a part, how to machine a part from scratch." Brad said when describing what he loves about machining. "And by doing that, I'm able to help other people without being in charge of other people."
Although Brad served admirably as Tri-Tec's production manager, he says he excels more in smaller groups. Deferring the direct supervising role to another individual this past spring has allowed Brad to return to a place he can shine the most. The change has also rewarded Tri-Tec with additional leadership.
"I don't feel as helpful as a supervisor as I am as a machinist. That's more enjoyable to me and (fits) more of my personality," he said. "Those types of interactions with people are more one-on-one compared to larger groups, bigger setting type things."
Brad machines parts on all of Tri-Tec's mills and offers individual advice to other employees. He is the fourth-longest tenured employee at Tri-Tec, which was founded in 1997. Brad loves working at Tri-Tec for several reasons but pointed to the company's small atmosphere as his favorite part.
"Here, everything is more close-knit with a tighter group of people," he said. "You're not known as No. 3 or No. 10 or that guy. You're known as Brad or Mike or whatever."
In his free time, Brad enjoys riding on four-wheelers and ATVs, gardening and working on the property he and his wife purchased three years ago. They also raise seven chickens. The couple celebrated their 25th wedding anniversary in April.
Brad likes watching movies as well. He described the Marvel series and The Crow as his favorite films.